Last Modified: 04/07/2021
Timely Diagnosis and Follow-up: A Resource Guide Supporting Tele-Audiology
I. Introduction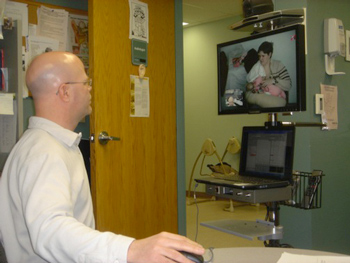 Tele-Audiology Resources
Tele-Audiology Technical Support sessions
Other Resources
Early Hearing Detection and Intervention (EHDI) systems work to ensure that infants are screened by 1 month of age, diagnosed by 3 months of age, and connected with early intervention services by 6 months of age – known as the 1-3-6 goal. Unfortunately, many infants who do not pass their newborn hearing screening are "lost to follow up". In 2017, the Centers for Disease Control and Prevention reported that nearly 25% of infants were lost to follow-up. Loss to follow-up is often due to the difficulty in accessing an audiologist with the needed pediatric expertise. This is particularly a challenge for families who live in rural and remote areas, hours from a pediatric audiologist.
This barrier to accessible hearing healthcare also exists for the families of children needing ongoing audiological care. Hearing loss is estimated to nearly double by the time children enter school. Therefore, the aim of this guide is to provide tele-audiology support to providers serving children birth to 5 years of age.
Role of Tele-Audiology
Tele-audiology (T-A)- the implementation of audiological services via telehealth technologies—has great potential to ensure that infants and children who need diagnostic and follow-up audiology services can receive them in a timely manner with ease.
Resources that describe the value of tele-audiology:
What is the Purpose of this Tool Kit?
The purpose of this guide is to share the lessons learned and recommendations for conducting remote audiological services with children age birth to 5 years based on the experiences of multiple professionals across the United States and in Canada.
This tool kit serves to provide practical strategies and serves as a springboard to promote the use of tele-audiology as one way to ensure hearing healthcare providers meet the needs of children and their families. The overall process for providing audiological services with children is much the same as providing in-person clinical services, with some additional steps in terms of communication, staffing, and equipment.
Benefits and Challenges of Tele-Audiology
Benefits
The ultimate benefit is that children who are deaf or hard of hearing (D/HH) are identified in a timely manner and connected with needed services to promote optimal development. Specific benefits are:
Provides access to qualified specialists
Reduces cost to families by reducing travel time and loss of work time
Increases number of clients that can be scheduled in a day
Ultimately, reducing loss to follow up and increasing timely diagnosis
Challenges
Diagnostic evaluations of infants via tele-audiology has been demonstrated to be technologically feasible. However, the following challenges are significant in terms of supporting wide-spread implementation:
Procedure can require more time due to the need to direct the assistant
Specialist must feel confident with technology
Some in-person follow up may be necessary
Telehealth requires additional privacy and security procedures
Funding and reimbursement varies by state and insurance source
Some specialists may feel threatened by competition with telehealth