Last Modified: 05/30/2017
XI. Other T-A Efforts and Resources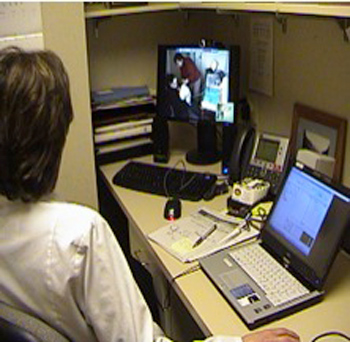 Telepractice for SLPs and Audiologists. American Speech-Language-Hearing Association (ASHA)
Critical Steps in Establishing a Teleaudiology Practice
General Telehealth Resource Center: A listing of the telehealth resource centers along with other useful resources
Neil Scharpe, project director: Telemedicine for Infant Audiology by North Dakota Center for Persons with Disabilities
References
De Wet Swanepoel, Ph.D., and James W. Hall, III, Ph.D. A Systematic Review of Telehealth Applications in Audiology

[PDF]

Pretto, A., and Harrison, M. 2010. Family-centered approaches. In R. Seewald and A.M. Tharpe (eds.), Comprehensive handbook of pediatric audiology (pp. 753–765). San Diego, CA: Plural Publishing.
Wesarg, T., Wasowski, A., Skarzynski, H., Ramos, A., Gonzalez, J., Kyriafinis, G., Junge, F, Novakovich, A., Mauch, H., Laszig, R. (2010) Remote fitting in nucleus cochlear implant recipients. Acta Oto-Laryngologica, (130): 1379-1388
Hughes, M., Goehring, J., Baudhuin, J., Diaz, G (2012). Use of telehealth for research and clinical measures in cochlear implant recipents: A validation study. Journal of Speech, Language, and Hearing Research. V.55, p.1112-1127, August.
Website Documents:
ATA, http://www.americantelemed.org/docs/default-source/standards/practice-guidelines-for-video-based-online-mental-health-services.pdf?sfvrsn=6

[PDF]

Joint Committee on Infant Hearing, Year 2007 Position Statement: Principles and Guidelines for Early Hearing Detection and Intervention Programs. Pediatrics Vol. 120 No. 4 October 1, 2007 (pp. 898 -921), doi: 10.1542/peds. 2007-2333