Last Modified: 05/30/2017
A Practical Guide to the Use of Tele-Intervention in Providing Early Intervention Services to Infants and Toddlers Who Are Deaf or Hard of Hearing
Authorship: All learning community members
I. Introduction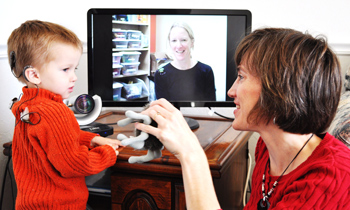 The National Center for Hearing Assessment and Management (NCHAM) works to ensure access to appropriate services by a qualified provider for children who are diagnosed as deaf or hard of hearing. One approach currently being explored by staff at NCHAM is the use of telehealth as a mechanism for delivering services to children and families who otherwise would go without needed services. Defined broadly, telehealth is the use of electronic information and telecommunications technologies to support long-distance clinical health care, patient and professional health-related education, public health and health administration (https://www.hrsa.gov/ruralhealth/telehealth/index.html). NCHAM staff were first introduced to this concept through their interactions with leaders from the Royal Institute for Deaf and Blind Children (RIDBC) in Australia. As described on their website, the RIDBC "Teleschool" provides services to families living in rural and regional areas of Australia who have a child diagnosed with hearing and/or vision loss. This experience led to NCHAM's interest in applying this service delivery method to reaching underserved families in the United States.
To explore the potential of distance technologies to serve children with hearing loss and their families, NCHAM invited professionals who were using this technology to provide family-centered services to form a "learning community". The purpose of the learning community was to share their experiences, address current challenges, and systematically address relevant issues. Broadly defined, a learning community is a group that shares a common interest and works together to enhance their knowledge. Because of the focus on early intervention services via telehealth technologies, NCHAM and the learning community members coined the term "tele-intervention" to emphasize the focus on the provision of family-centered interventions. This unique service is different from the delivery of child-centered therapy, the provision of audiological diagnostic services, and other applications of telehealth in the medical community.
Featured Articles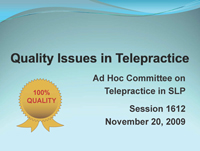 The professionals participating in the learning community represent the fields of early intervention for children who are deaf/hard of hearing, hearing health, technology and auditory verbal practice from five early intervention programs. Four programs serve children with hearing loss from birth to three years and their families. Each of these programs utilizes a listening and spoken language approach to communication. One early intervention program serves children with developmental delays or disabilities, including communication delays. Efforts were made to identify early intervention programs providing tele-intervention (TI) services utilizing other communication methodologies such as simultaneous communication, total communication and/or sign language; however no programs offering these communication approaches were identified at the time this learning community was formed.
The participants had a range of experiences utilizing TI. Some programs had been delivering services using TI for several years while others were just beginning. Together, the participants learned from one another, shared strategies they found effective, and identified the challenges of service provision using distance technology.
What Is the Purpose of This Resource Guide?
This resource guide provides practical information to programs and individuals interested in using tele-intervention to provide family-centered early intervention to families of children who are deaf/hard of hearing who have chosen a spoken language outcome. It reflects the work of the NCHAM TI learning community which focused its efforts on:
exploring "what we know now,"
reflecting on lessons we have learned, and
promoting tele-intervention as a viable service provision option to reach more children and families and to improve outcomes for children with hearing loss.
The information presented in this guide is based on practical experience using tele-intervention and reflects the participants' consensus on recommended practices.
Limitations of This Guide
At this time, there is limited research-based evidence to guide TI. Until empirical evidence is available, this resource guide offers practical advice about this fast-growing method of service delivery. Although this guide is based on the experiences of providers offering a listening and spoken language approach in particular, the majority of the information is deemed relevant to service provision using other communication modalities, as well as other types of early intervention services. The fact that the participants in this learning community have first-hand knowledge and experience utilizing TI with children enrolled a listening and spoken language approach is circumstantial. Philosophically, the group believes the same practices can be applied to children using other communication approaches. It is also important to keep in mind that given rapid changes in technology, the user of this resource guide is encouraged to keep abreast to changes that may have occurred. Finally, the implementation of TI is driven by state-specific licensure and reimbursement regulations rather than universal policies. Therefore, users of this guide are encouraged to inform themselves about the policies within their own state and those of other states that may be involved.