Last Modified: 05/30/2017
III. Implementation of Tele-Intervention Sessions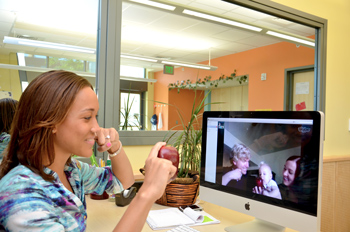 It is critical that TI provides high-quality services in keeping with recommended family-centered early intervention practices. The American Speech, Language, Hearing Association (ASHA) has published Telepractice Service Delivery Regulations. A series of documents for speech/language pathologists and audiologists is available at: Telepractice for SLPs and Audiologists.
A good tele-intervention session should look the same as a high-quality traditional home visit. Recommended practices for both TI and traditional home visits include the use of coaching strategies, routines-based interventions, and naturalistic teaching opportunities. The table below summarizes key "best practice principles" that apply to TI (JCIH, 2007; NECTAC, 2008). These four principles are consistent with best practices in early intervention in general and best practices promoting the development of communication in infants and toddlers who are DHH. More detail can be accessed by reviewing the document published by the Joint Committee on Infant Hearing and the document from the Early Childhood Technical Assistance Center.
Parents have commented on the benefits of TI. Parents were asked, "What's different about TI?". Their comments reflect any good early intervention session; but they also suggest that the key elements of an early intervention session are strengthened by TI.
"As the parent, I'm the main person interacting with child (vs. the provider)."
"My child is more responsive to me during TI."
"The provider is very specific in directing the session, reinforcing what I do, and encouraging me."
"I've got more knowledge about language development."
"I'm more confident in my ability to encourage my child's language and listening."
"The recordings help other family members increase their skills too."
On This Page
Early Intervention Principles Guiding Tele-Intervention
Best Practice Principles
Key Elements
Communication-focused intervention provided by early intervention providers with skills working with infants and toddlers who are DHH

Services on IFSP reflect child's needs
Skilled providers with training in early intervention services for children who are DHH

Intervention is provided in natural environments to promote family-centered services

Natural settings used
Activities based on families' routines
Use of coaching strategies

Full-time use of appropriately fit hearing technology

Monitor hearing status
Monitor function of hearing technology
Consistent use of hearing technology

Ongoing developmental assessments

Across developmental domains
Every six months
Compare development to hearing peers
Information used to drive goals and activities documented on the IFSP
Skills and Training of a TI Provider
As with the development and application of any new service delivery method, it is important for providers who are about to embark on implementing tele-intervention receive training and support. For many providers, delivering services via the internet can be intimidating. Additionally, research has shown that providers do not demonstrate the use of coaching strategies that is recommended as best practice (Campbell & Sawyer, 2007). Training, technical assistance, and coaching of the providers implementing TI must occur in a supportive, consistent, and continuous manner. The "Skills Checklist for Providers of Tele-Intervention" provides an overall guide to the content of T/TA.
A Skills Checklist for Providers of Tele-Intervention
Has basic knowledge of computers and other equipment that is being used
Can trouble-shoot video and audio equipment
Attends to technology while conducting the session
Organizes materials for activities ahead of time based on naturally-occurring routines
Conducts activities that involve materials and actions that are easily depicted over video/audio
Has a variety of activities planned in case some are not successful
Can adjust activities based on immediate interests of child/family
Demonstrates use of coaching techniques when working with family members/caregivers
Learning community members have conducted training via the following activities. Although the effectiveness of these trainings has yet to be scientifically evaluated, they serve as a starting point:
Group training session re: tele-intervention: defining tele-intervention; benefits & challenges, overview of TI sessions;
Group training re: effective coaching strategies for use during TI sessions.
Direct observation of TI sessions: observing live sessions as well as recorded sessions.
Provider- to- provider live practice using equipment.
Experienced provider mentors provider during first TI session: preparation for session, set up, and implementation of the session.
Experienced provider provides feedback to provider.
Intermittent group training sessions continue, focusing on trouble-shooting, improving skill set.
Download a ppt presentation from an initial group training session conducted by members from one of the learning community programs [PPT]
Skills of a TI Recipient
Similarly, families also need a skill set for participating in TI. This skill set is similar to any recipient of family-centered intervention. However, when participating in TI, the provider must nurture these skills in families. In TI, the emphasis is on family members as active participants and the primary "teacher" for their child.
A Skills Checklist for a Family Receiving Tele-Intervention
Has a basic comfort level with computers and a willingness to learn new technologies
Identifies activities, strategies, learning opportunities, and practices that will enhance their child's learning and communication development
Demonstrates strategies that are modeled and discussed during the session
Makes decisions regarding which strategies and activities work best for their child/family
Reflects on the TI sessions
Implements strategies that work and revises the strategy when it does not have the desired outcome
Preparing for TI Session
Creating a Listening Environment
It is important to ensure that the home environment as well as the interventionist's setting supports optimal listening, which includes limiting distractions. As noted in the Technology and Home Environment Tele-Intervention Checklist, it is important to omit background noises, such as TV's, radios, and phones. The caregiver should make sure that the child's hearing devices are in place and working.
Management of Others in the Environment
Both interventionists and families should ensure that others in the home or work environment know when the TI sessions are scheduled and understand the importance of not interrupting. Posting a "Do not disturb" sign sends a clear message, but establishing clear rules about waiting until the session is over is the most practical approach.
Selecting Instructional Materials
In accordance with natural environments, instructional materials used in TI are similar to those used in any effective early intervention situation—materials that are part of the child and family's everyday routines and that are culturally and developmentally appropriate. To facilitate best use of the TI session, interventionists can identify instructional, everyday materials that the family needs prior to each session, asking the caregiver to be ready with these materials. Some TI programs go so far as to send the family a set of materials; this requires extra time and cost on the part of the program, though families have reported that they appreciate having these materials ready to go. Due to the use of a computer screen to demonstrate activities for the caregiver, the interventionist doing TI often finds it useful to select materials that are larger and more visible over the computer screen. Additionally, a document reader can be used by the interventionist to enlarge the materials, including picture books (see Section IV, Technology, for information on document readers).
A Sample Letter to Families: What Happens During a Tele-Intervention Session?
Created by Marjorie Edwards, Sound Beginnings Program, Utah State University
Dear Caregiver,
Tele-intervention is a great way for you to learn language-facilitating techniques that you can use throughout the day with your child. The structure of the session is somewhat different than face-to-face intervention. My role, as the provider, is to help you become the primary communication partner with your child. Because I am not physically present during the session, I will demonstrate techniques and coach you as I "hand activities over to you" throughout the session. Parents have told us that this approach has helped them to use these strategies in a natural way during their interactions with their child outside of the session. The following is a rough outline of what the TI sessions will look like.
Initial Discussion/Review (10 minutes)
We will take this time to discuss new speech and language accomplishments, challenges and goals/expectations for the current session. Periodically, we will review checklists used to monitor your child's progress.
Sound Check: (3-5 minutes)
This will entail listening to each hearing device independently and then checking each ear independently. This helps assure that both hearing devices are working appropriately, that there has not been a change in hearing acuity. It also helps to teach the child to identify sounds on the speech frequency spectrum.
Familiar Song (5-10 minutes)
We can use a song bucket with 3-5 items representing a specific song. Initially, we will have your child select the item. Then, we will sing the song while emphasizing the gestures and motions associated with it. Gradually, we will sing the song and have your child identify the items and actions as we sing.
Introduce/Review Vocabulary Imbedded in Activity (10-15 minutes)
We will use materials that I have sent or that you have collected at home ahead of time to build your child's vocabulary. Generally we will use theme-based materials for several weeks (i.e. food, bears, animals, things at home, clothing). Initially, we want to develop lots of nouns and verbs. We will eventually add prepositions and adjectives as well. One tip: When introducing an object, always name the object and then associate an action with it. (For example, "Look, an airplane. It flies up in the sky.") The best way to learn vocabulary is to experience it with all senses and through repeated exposure.
Play a Game (10-15 minutes)
The game will include a simple routine with repetitive language and we will gradually increase the complexity once your child learns the routine (For example, "Roll the ball to…"; "The cow is on the…"). This is a great way to integrate vocabulary into a fun activity and to expand on your child's typical utterances.
Read a Thematic Book (5-10 minutes)
We will read books that match the theme. As you read, , focus on the vocabulary that is pictured. While looking at the book, comment or ask rhetorical questions about it (For example, "I wonder where the duck is?"; "I think the pig is sad."). In this way, your child is not pressured to "answer" questions which makes reading a relaxing experience. It is also helpful to draw attention to the book auditorally before showing the child the pictures.
Session Review (5-10 minutes)
Here, we will review the session and your child's skills. Then, we will discuss what you and other adults in her life can do to facilitate language in all environments throughout the week.
Sincerely,
Getting the Technology Ready for a TI Session
Prior to beginning TI services, it is important to determine the extent to which the family's home has an adequate internet connection and computer equipment. The "Checklist for Determining Home Capacity for Tele-Intervention" [DOCX] provides a way to record this fundamental information which can then guide the provider in determining if additional internet capacity and equipment are needed.
Preparing for a TI session requires planning and organization. However, this effort is typically out-weighed by the amount of travel time that is being saved. The Technology and Home Environment Checklist can be used by families and providers to assure the technology is ready for a smooth TI session.
Technology and Home Environment Tele-Intervention Checklist
At least 15 minutes prior to your scheduled session, prepare the environment, the equipment, and the connection as follows:
Prepare Your Environment
Choose an optimal room in your home based on the planned activity
Make sure there isn't glare coming from uncovered windows/doors
Have provider-requested materials for the activity available
Remove other items/toys that may be distracting
Mute phones that may interrupt
Turn off TV's, radios, other auditory/visual distractions
Test hearing devices (i.e., ensure batteries are working, have spare batteries available)
Change child's diaper/take to the toilet
If necessary, feed child before session
Identify the exact time the session will begin and end
Post "Do not disturb signs", if needed
Prepare Your Equipment and Connection
Make sure a power strip is on and/or the plug is secure
Turn on the computer
Make sure the camera and microphone are connected and working
Have headphones available to help eliminate the echo effect
Log off of any other programs/windows that are open on the computer
Log onto the program being used using your username and password—Consider posting it by the computer in a discrete location
Run the "test" feature, if available
If recording the session via a third- party software program, start the program and test as necessary
Make sure other computers in the house are turned off as other traffic will reduce bandwidth and limit the quality of the internet connection
Have a cell phone number for the provider available if an internet connection cannot be made
Ending the Session
Discuss any problems with the connection
Determine the date and time of the next session
"Hang up" and close down the program site
Close down the recording site
Notify others in your household that you have ended the session
Conducting the TI Session
The learning community members typically conducted 1-hour sessions. The actual TI session can be divided into 3 main phases: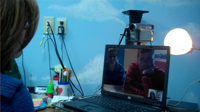 Serving families in rural northern Wisconsin
Reviewing goals, activities

Discussion of goals from the previous week
Update on new communication milestones, new behaviors, sounds, words that have emerged
Review of goals for current session
Audiological check of hearing devices

Conducting the lesson/activity

Demonstration of new or ongoing strategies, techniques with appropriate activities
Coaching the parent as he/she performs the activity
Discussion of integration of goals into the daily routines of the home

Debriefing

Allowing questions from the parents about next steps, goals, short- and long-term outcomes
Discussion of continuation of goals or selection of new goals based on present performance. Documents can be shown through the camera, document readers or "share document" on screen to allow parents to see the actual developmental scale, charts, handouts, etc.
Summarizing of the session and goals for the coming week. Providing follow up progress notes. This can be done by filling in a template and emailing, scanning interventionist notes and emailing or mailing a hard copy of notes.
An interventionist from Sound Beginnings, one of the participating learning community programs, has provided detailed information based on the following phases of a typical session (Edwards, 2011; Sound Beginnings Program, Utah State University):
An Overview of a Tele-Intervention Session
Lesson Plans
Prepare a lesson plan that clearly outlines the goals for the child and targets activities in each of these areas:
Cognition and conceptual development
Listening
Receptive Language
Expressive Language
Materials
Plan and prepare a materials "packet" to mail to family prior to the session (materials needed can be provided in a list for the caregiver to assemble, or materials can be sent from the program)
Have duplicate materials when possible
Have the family compile materials at home
Materials may be used for multiple sessions
Preparing for the Session
Email/call the family the day before to assure materials are ready
Assure that the parent has the room ready
Have the child situated comfortably (e.g., high chair, small chair, floor)
Prepare your equipment and establish the connection; 15 minutes before the session review "Technology and Home Environment TI Session Checklist"
The Session
Record the session
Allow for 1-2 second time lag in audio transmission.
Ask parent if audio and visual connection is adequate
Discuss any questions or problems with hearing technology (e.g., hearing aid, FM, cochlear implant)
Review the goals and outcomes from the previous week
Review the child's progress on tasks covered the previous week
Discuss goals for the current session
Explain how you intend to model an activity; explain when you expect the parent to take over
Clearly communicate the goal of each activity
"Hand" the activity over to the parent
Provide feedback at strategic times or when the activity has been completed
Always provide positive feedback
Review of the Session
Review the goals for the session
Make recommendations for parent follow-up
Schedule the next session
Discuss problems with the connection (e.g., audio and visual transmission)
Assure that you are no longer logged on to connection!!!
Follow-Up After the Session
Email/mail the following information to the family:

Summary of session recommendations
Any additional Information on other topics discussed, such as parent support and coaching
Any new materials for future sessions
Date of the next session
Monitoring Child Development & Audiological Functioning Via TI
Monitoring child developmental progress, particularly in regard to language, is an important component of early intervention. Tele-intervention lends itself to evaluating child performance using observation scales and language samples via a variety of ways. An objective observer or a team member can be present though "off screen", providing the opportunity to monitor development without potentially impacting the interaction occurring during the session. Additionally, recordings of the sessions also can be used to evaluate child performance using observation scales or to code language samples. These recordings also lend themselves to inter-rater reliability checks to ensure accuracy of coding.
TI provides an opportunity to have the audiologist join the TI session to monitor the child's hearing development, including hearing aid use, cochlear implants, and other devices without requiring the family to come to the center. TI allows the caregiver and the interventionist to consult with the audiologist and address concerns as they arise. Audiological services still require clinical evaluations to occur in sound booths and direct use of audiological equipment, but the ability to observe the child's behavior in a natural setting via TI is valuable.
Standardized tests require strict adherence to the conditions mandated by the test manual. For most standardized tests, this means that administration is limited to traditional face-to-face contacts. Therefore, such testing is typically conducted during a complementary traditional home visit or when the family travels to the early intervention center or clinic. Section VII, Evaluating Tele-Intervention Outcomes, contains additional information regarding evaluation tools for monitoring child development as well as other key constructs.
Meeting Requirements of Natural Environments
Natural environments are defined in the Individuals with Disabilities Education Act (IDEA, 2004) as services provided in the home and in community settings in which children without disabilities participate – meaning in settings that are natural or normal for children in general.
The provision of EI services in natural environments is required under IDEA, yet other references provide valuable insight to fully understand the definition and components of natural environments. According to an OSEP-supported workgroup on natural environments, there are seven principles that demonstrate how the definition of natural environments goes beyond physical setting or location alone. Rather, it involves use of learning activities that are functional, based on the child and family routines; engaging caregivers as essential partners while incorporating family strengths and providing supports to highlight a few of the elements.
Given this richer definition of natural environments, TI is not inconsistent with meeting natural environment requirements. For example, the strong use of coaching strategies within TI is in direct support of natural environments involving a focus on the family by building on their strengths, increasing the ability to foster their child's development, and using everyday routines as the basis of TI activities.
To date, the learning community members have not been challenged by Part C administration questioning TI as conflicting with natural environments. This is most likely due to the TI programs providing thorough descriptions of this mode of service delivery when communicating with Part C policy makers along with input from families about how TI has enhanced their lives and their child's development.
Tele-intervention has been reported to not only support use of natural environments, but also to support many of the 14 IDEA Part C indicators that require state reporting. This information is important to share with Part C administration to demonstrate how providing TI can actually help meet state requirements.