Last Modified: 05/30/2017
VI. Licensing Issues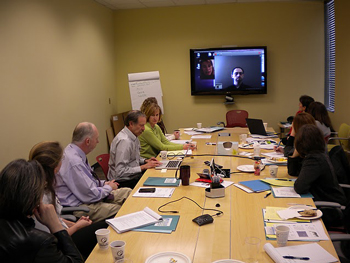 A funded project in Colorado engaged programs serving infants and toddlers with cochlear implants through TI in three states (Colorado, New Mexico, Wyoming). The speech/language pathologist (SLP) resided in Colorado and provided intervention, through TI, to a child in Wyoming. Funding for the sessions was provided by the local Part C agency in Wyoming. Before TI could start, the SLP was required to obtain a license to work with children in Wyoming. This license cost $300 for the first year and was purchased at the SLPs own expense. (The cost for a license in subsequent years was $100/year.) Once the license was obtained, services started. Reimbursement for each session was expedited by the Part C fiscal agent.
At the current time, the American Speech, Language, Hearing Association (ASHA) requires an SLP to have licensure in the state in which they work. It is possible that these rules may be reviewed as tele-intervention and tele-practice become more common. For instance, the medical profession is looking at cross-state credentialing and privileging to potentially lessen the burden to the provider who must pay fees to work in multiple states. It is possible, in the future, that agencies delivering medical services may accept credentialing by proxy for professionals delivering services through tele-health. Perhaps this will set a new standard for licensure as well.
Limited licensure is yet another consideration. This would allow states to monitor tele-practitioners who are providing services in multiple states without unduly restricting their practice. It will be important to follow these trends in the medical field and the guidelines published by ASHA.
Recognizing the additional skill set required by providers of TI, national organizations such as the American Speech and Hearing Association have developed several reports and policy papers pertaining to general qualifications and licensing issues for TI:
While ASHA has documented relevant issues for SLPs, there is currently no comparable document for Teachers of the DHH. It is the opinion of the learning community that TI warrants attention by other fields as well.
To date there are no licensure or certification requirements for providers that are specific to TI. Some states have state provisions regarding telehealth/telepractice. In general, these states require that providers of TI have the same credentials as providers of traditional home-based and center-based services. They also emphasize the importance of adhering to privacy regulations. The ASHA website provides information on licensure trends, including the following:
The Health Resources and Services Administration (HRSA) recently published a report to congress [PDF] in regard to licensure portability, summarizing the experience of HRSA-funded Licensure Portability Grant Program grantees. Although it focuses on physicians and nurses, the issues and challenges have relevance to the provision of TI as well.
Some strategies for resolving barriers to licensure are provided here from a sub-committee of the American Telemedicine Association's (ATA) Telerehabilitation Special Interest Group: Resolving Barriers to licensure Portability for Telerehabilitation Professionals [PDF].
ATA and other advocates of telemedicine have promoted forms of reciprocity among states. Instead, the red tape and costs have grown in recent years as states increase the paperwork and regulatory barriers that must be overcome. They encourage health care professionals, consumers and other stakeholders to show their support for the creation of streamlined regulations to facilitate telemedicine and telehealth efforts. Review their petition and learn about their campaign.