About NCHAM and the EHDI NTRC
The National Center for Hearing Assessment and Management (NCHAM - pronounced "en-cham") is one of many research centers located at Utah State University in Logan, Utah. The mission of NCHAM is to ensure that all infants and young children with hearing loss are identified as early as possible and have access to timely and appropriate audiological, educational, medical intervention, and family support services. NCHAM receives funding from multiple sources to conduct research, training, and technical assistance activities to support and improve newborn and early childhood hearing screening, diagnosis, and early intervention.
Who is the EHDI NTRC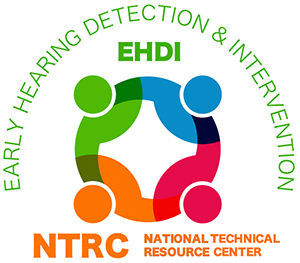 NCHAM has served as the Early Hearing Detection and Intervention National Technical Resource Center (EHDI NTRC) for many years. The EHDI NTRC is currently funded as a cooperative agreement (U52MC04391) with the Maternal and Child Health Bureau (MCHB) of the Health Resources and Services Administration (HRSA) at the United States Department of Health and Human Services.
Our Goals
The EHDI NTRC works with state and national collaborators to create, improve, and operate sustainable EHDI systems of care in which:
All infants:
are screened for hearing loss before 1 month of age, and
those who do not pass, receive diagnostic evaluations before 3 months of age, and
those with hearing loss are enrolled in early intervention before 6 months of age.
All families of infants identified with permanent hearing loss:
receive culturally-competent support and information, and
are linked to a family-centered medical home.
All young children:
are screened periodically for hearing loss and receive appropriate follow up.
All State EHDI systems:
are linked to other relevant public health information systems;
use ongoing quality improvement methods to continually enhance services, and
disseminate appropriate and timely information to families, health care providers, and other relevant stakeholders.
What We Do
NCHAM staff provides technical assistance aimed at improving and sustaining state EHDI systems of care, including:
Training
Individual consultation
Developing new resources
Information sharing