Last Modified: 01/19/2021
VIII. Reimbursement Issues for Tele-intervention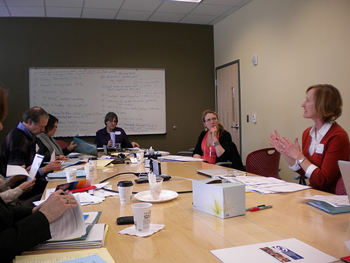 Given the rapid adoption of telehealth and tele-intervention, it is important to follow changes in reimbursement for this mode of delivery. The typical sources of reimbursement for early intervention services are Medicaid, private insurance, and Part C. This section provides links to further information to pursue reimbursement from these sources.
On This Page
Reimbursement and Telehealth Resource Centers
Telehealth Resource Centers (TRCs) assist organizations, providers and communities in implementing cost effective and sustainable telehealth programs. TRCs are HRSA- designated focal points for information and resources to advance the use of telehealth, including issues regarding reimbursement. The Telehealth Resource Centers are supported by grants from the Office for the Advancement of Telehealth.
You can also contact any of the regional centers listed below:
Featured Article
The Northwest Regional Telehealth Resource Center has a useful article discussing how one state was able to get a telehealth parity law passed.
Learn the steps [PDF]
State Telehealth Laws and Reimbursement Policies
Medicaid Reimbursement
The Centers for Medicare and Medicaid Services Facilitates Reimbursement
The Centers for Medicare and Medicaid Services (CMS) recently issued official written guidance announcing that states can unilaterally reimburse for telemedicine without the need for further approval by the CMS. This guidance is significant because now states can easily access federal education funds through a simple regulatory change at the level of their Medicaid department, making telemedicine services more accessible and affordable to students and schools in need.
"Telemedicine is viewed as a cost-effective alternative to the more traditional face-to-face way of providing medical care (e.g., face-to-face consultations or examinations between provider and patient) that states can choose to cover under Medicaid." This definition is modeled on Medicare's definition of telehealth services (42 CFR 410.78). Note that the federal Medicaid statute does not recognize telemedicine as a distinct service. Learn more at Medicaid.gov.
Additional Medicaid Resources
The Northwest Telehealth Resource Center has several documents that provide guidelines for requesting reimbursement from Medicare and Medicaid, such as the "ATA Strategies for Medicaid Reimbursement."
Private Insurance Reimbursement
State legislation can also help ensure that private insurance covers tele-intervention. For example, advocates in Maine recently worked to ensure the passage of legislation to ensure private coverage for telepractice.
Part C Reimbursement
Each state's Part C Early Intervention program determines their policies regarding the reimbursement of direct services, and this holds true for the reimbursement of tele-intervention services as well. It is important that new programs about to embark on tele-intervention communicate with their state's Part C program to ensure their approval of providing TI and their provision of reimbursement for direct services. One publication summarizing state Part C coordinators that reported the implementation and reimbursement of tele-intervention [PDF] is provided here. However, an update of this survey study is needed.