Last Modified: 01/22/2021
X. Adherence to Existing Professional Standards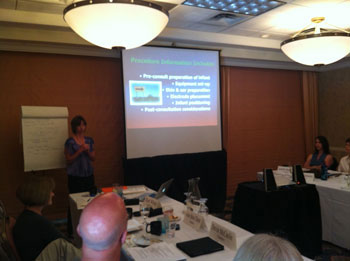 Implementation of tele-audiology (T-A) is subject to the same standards as delivering traditional in-person audiological services. Therefore, programs and specialists who intend to provide T-A need to abide by these existing standards:
American Speech and Hearing (ASHA) Standards:
Audiologists Providing Clinical Services via Telepractice: Technical Report
Highlighted sections from JCIH 2007 Report: Diagnostic audiology evaluation (p.900-901)
Audiologists with skills and expertise in evaluating newborn and young infants with hearing loss should provide audiology diagnostic and auditory habilitation services (selection and fitting of amplification device).
At least 1 ABR test is recommended as part of a complete audiology diagnostic evaluation for children younger than 3 years for confirmation of permanent hearing loss.
The timing and number of hearing re-evaluations for children with risk factors should be customized and individualized depending on the relative likelihood of a subsequent delayed-onset hearing loss. Infants who pass the neonatal screening but have a risk factor should have at least 1 diagnostic audiology assessment by 24 to 30 months of age. Early and more frequent assessment may be indicated for children with cytomegalovirus (CMV) infection, syndromes associated with progressive hearing loss, neurodegenerative disorders, trauma, or culture- positive postnatal infections associated with sensorineural hearing loss; for children who have received extracorporeal membrane oxygenation (ECMO) or chemotherapy; and when there is care- giver concern or a family history of hearing loss.
American Academy of Audiology (AAA):
AAA states that "diagnostic and rehabilitative telehealth/telemedicine services should always be provided by, or supervised by, a qualified practitioner." Recognizing the challenges in accessing qualified specialists, the AAA 2008 Guidelines state "telemedicine services should be primarily provided to individuals who have limited access to [specialists] in their communities."
Joint Committee on Infant Hearing (JCIH):