Last Modified: 01/22/2021
VIII. Licensure, Reimbursement, Legislation
Licensure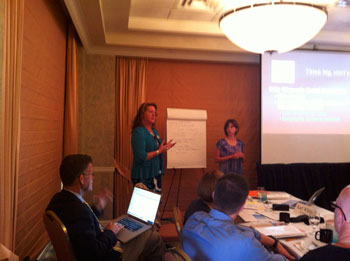 In preparation for pursuing coverage of tele-audiology at the state level, it is important to understand general procedures as well as talking points in support of telehealth and talking points for rebutting common arguments opposing tele health coverage. The ATA State Policy Toolkit: Improving Access to Covered Services for Telemedicine [PDF] is a great resource.
Licensure rules are relatively straightforward: As with any service delivery by a health provider, in order to conduct remote diagnostic evaluations, an audiologists must be licensed in the state where the infant is. For most of the members involved in this learning community, inter-state licensure was not required since they were serving infants in remote regions of their own state. However, audiologists in Colorado were required to be licensed in Guam.
Reported by the American Telemedicine Association news "two pending bipartisan bills which would expand the "one state license" practice to other federal interstate telehealth programs. With these bills, a healthcare professional would need only one state license to serve patients in any location who are covered by a federal health program.
H.R. 2001 for the Department of Veterans Affairs with the VETS Act (Veterans E-Health & Telemedicine Support Act)
H.R. 3077 for Medicare with the TELE-MED Act (TELEmedicine for MEDicare Act)"
Although these bills address services typically provided to an adult population, they would set serious precedence for interstate licensure to support pediatric services as well.
Reimbursement
Reimbursement is not straightforward. Rules vary state to state and by private versus public payment sources. However, reimbursement barriers slowly are devolving. Commentary by Paul Cerrato writes how "Barriers to telemedicine slowly crumble".
Legislation
Featured Article
The Northwest Regional Telehealth Resource Center has a useful article discussing how one state was able to get a telehealth parity law passed.
Learn the steps [PDF]
State Telehealth Laws and Reimbursement Policies report [PDF] "offers policymakers, health advocates, health care professionals and others with an interest in telehealth a summary guide of the most recent information available about how each of the 50 states (and the District of Columbia) defines, governs, and regulates the use of "telehealth" or "telemedicine" technologies in the delivery of health care services" (CCHP).
Medicaid Policies and Reimbursement
State Medicaid Best Practice, Telerehabilitation (January 2014) [PDF] is an excellent document highlighting states with Medicaid reimbursement for telerehabilitation.
50 State Telehealth Medicaid Policy Report
The Center for Connected Health Policy (CCHP) has released an analysis of state telehealth laws and Medicaid reimbursement policies. The report focuses on eleven key areas of telehealth that continually get brought up in the discussions about reimbursements, licensing, and definitions in state's Medicaid programs.
Specific policy areas related to telehealth surveyed and addressed by CCHP:
Definition of the term telemedicine/telehealth
Reimbursement for Live Video
Reimbursement for Store and Forward
Reimbursement for Remote Patient Monitoring (RPM)
Reimbursement for Email/Phone/FAX
Consent issues
Location of service provided
Reimbursement for transmission/facility fees
Online Prescribing
Private payer laws
Licensure"