Last Modified: 01/21/2021
III. Remote Site Preparation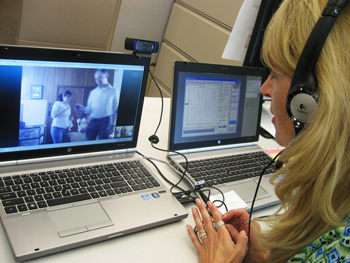 Tele-audiology (T-A) relies heavily on the staff and assistant at the patient sites to assist with supporting scheduling, communication with families, and assisting with the actual diagnostic procedures.
Prior to the actual diagnostic evaluation, designated assistant must ensure that the family knows what to expect and that support is provided to ensure their attendance. It is generally helpful to have the assistant (or staff member) from the patient site, communicate and document the following:
Obtain Informed Consent
Informed consent may be collected by the assistant at the patient site prior to beginning the live T-A session. This allows the diagnosing audiologist to simply confirm receipt of informed consent at the beginning the evaluation process. The American Telemedicine Association states in their "Practice Guidelines for Video-Based Online Mental Health Services" [PDF] that:
Local, regional and national laws regarding verbal or written consent shall be followed. In addition, the informed consent process should include information specific to the nature of videoconferencing as described below. The information shall be provided in language that can be easily understood by the patient. This is particularly important when discussing technical issues like encryption or the potential for technical failure. Key topics that shall be reviewed at the time of obtaining informed consent include:

Confidentiality and the limits to confidentiality in electronic communication
Agreed upon emergency plan, particularly for patients in settings without clinical staff immediately available
Process by which patient information will be documented and stored
The potential for technical failure, procedures for coordination of care with other professionals
A protocol for contact between sessions
Conditions under which a referral may be made for follow up care
Verify everyone's Contact Information
The telephone and mail contact information for the diagnosing audiologist, the assistant, and patient needs to be obtained and verified to ensure follow up or to reach participants should the T-A connection be lost.
Confirm the location of the Patient site and the Specialist site
It is important to confirm the location where the family is to go and the location of the audiologist. This is particularly important for T-A programs that involve multiple remote sites. The location(s) where the patient will be receiving tele-audiology services shall be confirmed, documented, and provided to the infant's caregiver. This information is necessary for reporting, reimbursement, and adherence to licensure requirements. It also serves to determine if there is a need for transportation support to the patient site.
A sample of a Parenting Schedule Letter [PDF] to families describes the procedure and the appointment time is provided in "Telemedicine for Infant Audiology" developed by the North Dakota Center for Persons with Disabilities at Minot State University.
Provide Family Education Materials about the Diagnostic Evaluation Process
As with in-person audiologic evaluations, it is important to provide caregivers with information about the evaluation process and how they can ensure that their infant is in an appropriate state for testing. These procedures are articulated in other resources, including EHDI PALS.
Learning community examples: